Unfortunately for consumers, the Yamaha YPG-535 was discontinued in early 2020. In this article, I'll show you the best alternatives, and also the Yamaha YPG-535 review just in case you want to look for a used option on eBay.
The Yamaha YPG-535 was a great keyboard piano with numerous features, 88 keys, computer connectivity, a variety of voices, and some of the best sounds in the industry. However, it was outdated, and Yamaha replaced it with newer models like the Yamaha PSR EW-300.
Yamaha YPG535 Alternatives
When looking for the YPG-535 alternatives, I looked for keyboard pianos in the same price range with similar features, and that have a reputation of being high-quality.
Yamaha P71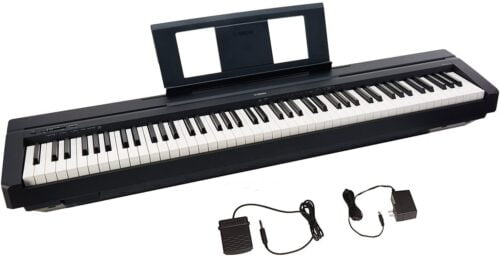 The Yamaha P71 is perhaps the most popular keyboard piano of all time. It's 88 keys are hammer weighted, it has a beautiful and realistic sound, and it's portable.
Yamaha PSR EW-300

The PSR EW-300 is another great option from Yamaha keyboard pianos. It has 76 keys, Yamaha Education Suite to help beginners learn, MIDI connection, and a variety of voices. It's a little cheaper than the YPG535 was, making it a good choice for those on a budget.
Yamaha YPG-535 88-Key Keyboard Piano Review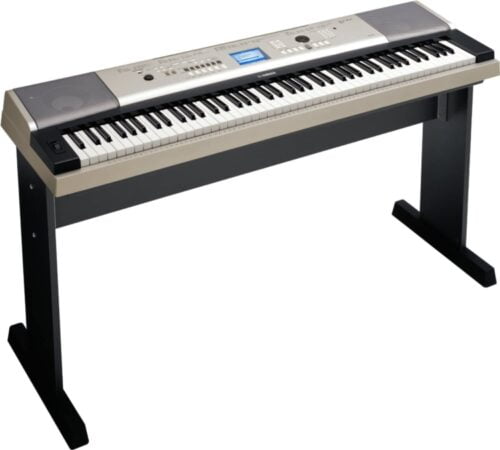 A brand like Yamaha needs no introduction due to its popularity. Likewise, the Yamaha YPG-535 88-Key Portable Keyboard Piano requires no introduction due to its excellent reputation in the music industry. This certainly is one of the top-rated piano keyboards that you can come across in this category for sure. Let us find out more about it in detail.
Pros:
Yamaha Education Suite is included, so you can learn easily
Graded Soft Touch key action is meant to mimic a real piano
Computer and MIDI connectivity for easy recording and editing
Equipped with XGlite voices, which are some of the highest quality found on a keyboard piano
Cons:
The key action is not as good as some competitors
It's no longer in stock
Pricey for the quality of the keyboard
Specs:
Number of keys: 88
Number of voices: 361
Weight: 41 pounds
Features of the Yamaha YPG535
The Yamaha YPG-535 88-Key is a great device that can be used to learn, practice, or just listen to music when not using it for playing. It is part of the Yamaha YPG series that initially debuted in 2014, and was since replaced in 2020 by newer models like the Yamaha P45.
Although this model is older, it still has some great features. Here are some of the features that make it a perfect device for professionals as well as beginners:
Realistic Sound
With 88 piano-style keys, this electric piano is sure to offer you a realistic feel. You expect the best sound with this piano that high-quality pianos are capable of producing. The 361 XGlite generates sounds of a trumpet, flute, and soprano to name a few. Moreover, the clarity in the sound and the detail, make it a real acoustic piano.
Yamaha Education Suite
This is a special program that helps you learn to play the piano at your own convenience. You can adjust the TEMPO modes and work accordingly.
Computer connectivity
Additional USB ports make it easy for you to download and upload songs for practice. If you are creative, you can do wonders with this digital keyboard, for sure.
Conclusion
Overall, the Yamaha YPG-535 was a great keyboard piano and was one of the more popular models on the market in the mid-2010s. However, due to the discontinuation of the Yamaha YPG-535, I recommend the Yamaha P71 instead. The P71 has a more realistic feel, more portability, and is all around a higher quality machine.