As a quick recap of this article, I think the Donner DDP-80 is a beautiful keyboard piano with a great sound, a realistic feel, and nicely weighted keys. It lacks the voice features of some other keyboard pianos, but if you are looking for a beautiful keyboard that sounds like a traditional acoustic piano, this is it.
Overall, this is an amazing keyboard piano that sounds rich and deep, but the main reason to buy this keyboard piano is for its looks. It has a modern and minimalistic design that looks great in any home. The wood finish is classy, and the space-saving design is a huge upgrade from traditional keyboard pianos.
Below, I'll go into more detail and share my full review of the Donner DDP-80.
Donner DDP-80 Review
The Donner DDP-80 88 key digital piano was designed after countless hours of R&D by the Donner research team, one of the best in the business. They wanted to create an incredible-looking keyboard piano, without sacrificing sound quality, or ease of use. It's purposely built to look like and mimic a grand piano.
This digital piano is perfect for people looking for a wooden keyboard option that looks and sounds like a real piano. Donner creates some of the most realistic-sounding digital pianos, and this one is no exception. For people looking to downsize from a grand piano, this model is only 50 inches long by 14 inches wide, so it fits in almost any room.
A few buyers from Amazon have complained about keys not working properly, however, Donner has since fixed this issue and issued recalls and refunds on affected models. I did not have any issues with my model. Unfortunately, this keyboard piano only has one voice, the grand piano, so if you wanted an option to play more than one sound, this isn't the best option for you.
Check the best price for the Donner DDP-80 here
Key Specifications
Size: 49.9in x 13.9in x 29.3in (126.8cm x 35.5cm x 74.5cm)
Weight: 46.9lb (21.3kg)
Power: External Power Adapter, DC-12V/3.0A
Sound library: 1 Standard Piano Tone
Keyboard material: ABS Plastic
Body material: Wood
Speakers: 20W
Build Quality and Appearance
As you can see from the image above, the DDP-80 is a stylish keyboard piano and, in my opinion, the best keyboard piano in its design class. It is one of the few digital pianos that have a wooden frame and legs. The keyboard is minimalist, stylish, and modern, and looks great in almost any room.
This piano keyboard feels very similar to a real piano. The keys have good sensitivity and weight action. It doesn't quite compare to the Yamaha P71 Keyboard in terms of its touch, but the Donner DDP-80 is still very good.
It doesn't include the electronic touchscreen most new digital pianos have, and instead replaces it with a wood music stand, allowing you to play along with your favorite music. The music stand is a little flimsy and feels a little weak with an iPad on top, but it hasn't broken yet.
Sound Quality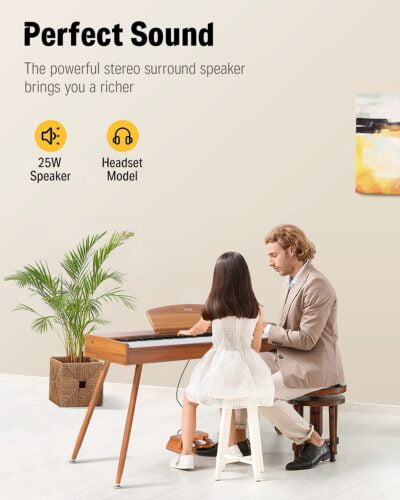 The sound quality of the Donner DDP-80 is remarkable. The built-in speakers are loud, and there is an option to hook up keyboard piano speakers or headphones if you need some privacy. The sound coming out of the speakers is adjustable, so you can adjust the volume to be as loud or as quiet as you like.
This piano by Donner uses an expertly-sampled acoustic grand piano. The advanced technology Donner uses delivers a well-balanced, rich, and deep French grand piano sound. It includes a three-pedal sustain system just like a real piano and allows you to play traditional classical music.
Key Features
Hammer-weighted keys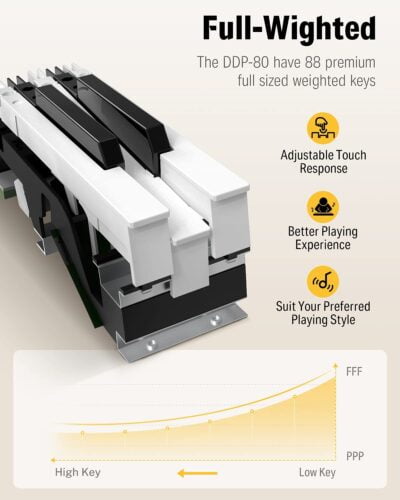 The full-size 88 key keyboard features hammer action keys that resemble a grand piano touch. They simulate a traditional piano to train your fingers for the real deal. It's a great piano for practicing.
128 polyphony
Two 20W speakers, the DREAM Donner sound source, and 128 polyphony prohibit you to play a wide variety of music on your keyboard. Play the classics or pop music with this advanced machine.
Compatibility
Although it doesn't have an electronic interface or multiple sounds, the Donner DDP-80 allows you to plug in an iPad, or a computer. With the iPad, you can use Donner's teaching app to learn, or you can plug in your computer and use advanced music editing software.
Donner DDP-80 vs. Other Donner Models
| | | | | | |
| --- | --- | --- | --- | --- | --- |
| | | | | | |
| | DDP-400 | DDP-300 | DDP-100 | DDP-90 | DDP-80 |
| Keyboard | Donner Progressive Hammer Action | Donner Progressive Hammer Action | Donner Progressive Hammer Action | Donner Progressive Hammer Action | Donner Progressive Hammer Action |
| Number of Keys | 88 | 88 | 88 | 88 | 88 |
| Midi Connectivity | Yes | Yes | Yes | Yes | Yes |
| Timbre/Polyphony | 128/128 | 10/128 | 1/128 | 1/128 | 1/128 |
| Headphone Mode | Yes | Yes | Yes | Yes | Yes |
| Triple Pedal | Yes | Yes | Yes | Yes | Yes |
| Amplifier | 15 W x 2 | 10W x 2 | 25 W x 2 | 10 W x 2 | 20 W x 2 |
| Piano Cover | Sliding | Pushpull | Pushpull | Flip Top | None |
Info taken from donnerdeal.com
Conclusion: Donner DDP-80 Review
Overall, this keyboard sounds and feels like the real thing, but I think the main reason to buy it is for its looks. There are other hammer-weighted keyboards that offer a better feel, more features, and better portability for a cheaper price (like the Yamaha P71).