In this Williams Allegro 3 review, I'll go over what makes this an amazing keyboard. Williams is a well respected keyboard piano brand, and makes a high quality product that lasts a lifetime. This keyboard is a great example.
Williams Allegro 3 keyboard includes everything you need to start playing immediately. It comes with a bench, sturdy keyboard stand, and a sustain pedal. It is perfect for beginners, intermediate users, and professionals.
The Allegro III features 88 keys, making it a full-size keyboard. Best of all, it includes more sounds than just piano keyboards, it includes many instruments, offering you the freedom to create whatever style of music you like.
For a buyer on a budget looking for a keyboard piano to practice with or learn on, this is a great option. It has a full 88 keys that are weighted to feel like a real piano.
The piano includes built in speakers, a headphone jack, learning app, and accessories. It is one of the few full size 88 key keyboards which are still affordable.
Williams Allegra 3 Keyboard Review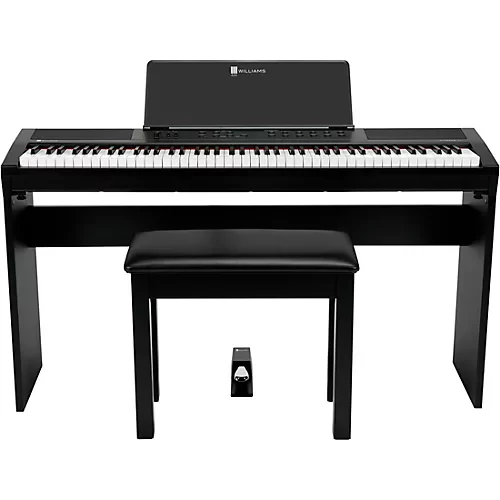 Overview:
This product is an upgrade from the Williams Allegro 2, and features many sounds including piano, electric piano, organ, and strings and base. The sounds are taken from the Williams custom sound library, which features the finest instruments in the world, recorded in the clearest way.
The new and improved weighted piano keys allow for a realistic feel and control spanning over the entire piano. It comes with built-in dual-driver speakers that offer clear and concise sound quality without being too powerful.
The Williams Allegro 3 comes with MIDI functionality to connect to the Williams iOS app, iPhone, or iPad. The Williams app allows you to adjust the sounds and controls, or use it's learning center to improve your skills. If you want to use your own software, just connect your iPhone.
It's portable, lightweight, and can run on either batteries, or the included AC power supply. The connections allow for you to hook up your own keyboard piano speakers.
Pros
Cons
Features
Portable Design
The design of a keyboard might not be a primary feature when you're looking for a keyboard, but still an important item. The Williams Allegro 3 keyboard has a simple design that is robust enough to prepare budding musicians to eventually play an actual piano.
Its full size keyboard is realistic to a piano, and offers a weighted feel. The key tops can easily fit your fingers when playing, which enables you to practice good hand position to even play on an acoustic piano.
The Williams Allegro 3 comes with a control panel and user interface set in the middle for easy access during a performance. Furthermore, its design is compact enough to fit in a small room or in the back of a vehicle.
Fully Weighted Keys Mimic the Piano Feel
The Williams Allegro 3 utilizes 88 hammer-action, fully weighted keys. When switching over from a traditional piano, you'll feel the similarities instantly. For beginner players, weighted keys help to develop the hand strength, and they help intermediate players control the loudness of the key by controlling the pressure.
Different Sounds for Endless Customization
Williams has a custom sound library that's high quality sounds like the piano, electric piano, organ, string, and bass. All these sounds were recorded in the highest quality way possible. This best keyboard piano also allows you to control the reverb, chorus, and other mods individually. The Williams Allegro 3 keyboard offers this to the user for free.
Bluetooth MIDI Connectivity
Bluetooth MIDI helps to connect to piano teaching apps for advanced learning on this piano keyboard. If you are learning with an instructor,
Duet Lesson Mode makes it easy to work side by side with a live teacher. Play the piano sound and Bluetooth audio through the Williams Allegro 3 stereo speakers, or choose the headphone output for private practice. In either case, with 64-voice polyphony, you can create lush, layered orchestrations.
Includes the Williams iOS App to Learn
The free Williams app allows you to select other sounds, change the effects and set up layers and splits right from your iPhone or iPad. The app also lets you play along with a drum machine, metronome, and jam tracks. You can even play songs from your music library at a slower speed without changing the pitch to learn new songs.
Alternative Options
Is the Williams Allegro 3 Keyboard Piano Worth the Money?
This keyboard is very affordable, stylish, and easy to play. It has everything a beginner needs and all the extra bells and whistles included in a pricier model. It is one of the best keyboard pianos for beginners I have seen.
Conclusion:
Hopefully, this Williams Allegro 3 keyboard review answered all of your questions. If you are looking for a keyboard that's affordable and great for beginners, this keyboard piano is a great choice. The great price point, rich features, and quality make this a keyboard we recommend. If you don't like this keyboard, check out the Casio LK-265 instead.