The Yamaha PSR-SX700 is a powerful keyboard with a variety of functions for musicians of all skill levels. It is made to offer outstanding sound clarity, an intuitive user interface, and limitless creative opportunities.
If you're in the market for a high-quality, feature-packed keyboard, the Yamaha PSR-SX700 is your best bet. You can take your performance to the next level with the help of this keyboard piano, which has every option imaginable. The Yamaha PSR-SX700 is a versatile keyboard that can be used by anyone from beginners to seasoned musicians.
If you need a keyboard that can create a variety of sounds, the Yamaha PSR-SX700 is a great choice. Make music in any genre you can imagine with the in-built library of over a thousand voices and hundreds of styles, from classic rock to cutting-edge electronica. Built-in effects and real-time controls provide a wide range of sonic customization.
The Yamaha PSR-SX700's user-friendly interface is one of its strongest points. The knobs and buttons are conveniently located, and the big LCD screen makes it simple to use all the functions. The keyboard's MIDI port and USB connector allow it to be linked to a computer and other devices, respectively.
Key Features
High-Quality Sound
The sound clarity of the PSR-SX700 is a major selling point. Another selling point is the instrument sounds, which range from pianos to guitars to trumpets, numbering over 1,400. The samples used to create these sounds come from some of the most high-quality instruments in the world.
Yamaha's Super Articulation technology is also included in the PSR-SX700, and it faithfully recreates the string slides, fret noises, and breath sounds that are distinctive to an actual instrument. This technology will significantly enhance the expressiveness and realism of your playing.
Simple and Easy to Use
The PSR-SX700's user UI is well thought out and straightforward. Accessing any of your preferences or tools is a breeze on the bright and responsive 7-inch color touch screen. You can also arrange the icons on your home page however you like for instant access to your most frequently used features.
There are assignable buttons, knobs, and faders on the keypad that can be used to manage a wide range of features and settings. With this function, you can easily tailor your setup for public performances, studio recordings, or at-home practice.
Creative Options
The PSR-SX700 gives players a lot of room to experiment. The 16-track sequencer is integrated right in, so you can start composing and arranging right away. The keyboard's accompaniment styles allow you to record your own instrumental accompaniment, simulating a complete band or orchestra for live shows.
There are many effects and processing choices available on the piano, such as reverb, chorus, distortion, and more. You can mold your music with these effects and give your play more dimension and personality.
FAQ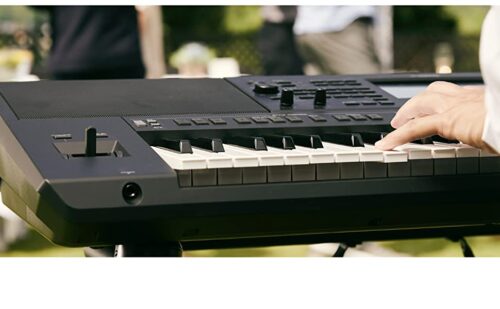 What is the difference between the Yamaha PSR-SX700 and the PSR-SX900?
The PSR-SX900 has more voices and styles, and more assignable buttons, knobs, and faders than the Yamaha PSR-SX700. However, both keyboards share many of the same features and offer exceptional sound quality and intuitive operation.
Can I connect the PSR-SX700 to my computer?
Yes, the PSR-SX700 can be connected to a computer via USB. This allows you to transfer files between the keyboard and your computer, as well as use the keyboard as a MIDI controller for music software.
Does the PSR-SX700 keyboard have built-in speakers?
Yes, the PSR-SX700 has two built-in speakers that provide clear and powerful sound. It also has two headphone jacks, so you can practice or play silently without disturbing others.
Can I record my performances on the PSR-SX700?
Yes, the keyboard piano has a built-in 16-track sequencer that allows you to record your performances and create your own compositions and arrangements. You can also record your performances directly to a USB flash drive.
What kind of effects does the PSR-SX700 have?
The Yamaha PSR-SX700 has a variety of effects, including reverb, chorus, delay, distortion, and more. These effects can be used to shape your sound and add depth and character to your playing.
Can I use the PSR-SX700 for live performances?
Yes, it is designed for live performance and has a range of features that make it ideal for this purpose. It has a wide range of voices and styles, assignable buttons and knobs, and a powerful speaker system, making it a versatile and reliable instrument for any live setting.
Is the Yamaha PSR-SX700 keyboard easy to use?
Yes, it has an intuitive interface and user-friendly design that makes it easy to use for musicians of all levels. The touch screen is large and clear, and the assignable buttons and knobs can be programmed to control various functions and parameters, making it easy to customize your playing experience.
Conclusion
The Yamaha PSR-SX700 is an excellent instrument due to its high-quality sound, user-friendliness, and versatility. Whether you're just getting started or are a seasoned pro, this keyboard will serve you well. It's a device that can go anywhere and do anything you want. With its numerous features, it has the potential to awaken your creative potential and motivate you to greater levels of productivity.
If this model isn't for you, check out some of our favorite other Yamaha models below: