The Yamaha PSR-SX900 is the best choice if you want a fantastic, feature-rich keyboard. This keyboard piano has every feature you can think of, so you can use it to take your playing to the next level. The Yamaha PSR-SX900 has features that are useful for both amateurs and experts. Let's take a look at the capabilities of this advanced keyboard.
The Yamaha PSR-SX900 is an excellent option for those in need of a keyboard that can produce a wide variety of sounds. Create anything from traditional rock to cutting-edge electronica using the in-built library of over a thousand voices and hundreds of styles. The built-in effects and real-time dials allow for extensive sound modification.
The Yamaha PSR-SX900 is a high-quality performance option because of its extensive feature set. With the Super Articulation Voices, you can make the sounds of a wide range of instruments, and with the Groove Creator, you can make your own rhythms. Making intricate rhythmic patterns is another strength of the arpeggiator.
The Yamaha PSR-SX900's easy-to-navigate menus and controls are among its best features. The knobs and buttons are intuitively placed, and the large LCD display makes it easy to access all the features. With the MIDI port and the USB port, you can connect the keyboard to your computer and to other instruments.
Key Features
Sound Quality
The PSRSX900's excellent audio quality is one of its most notable characteristics. There are more than 1,400 high-quality instrument voices available, such as pianos, strings, brass, guitars, and more. These voices were sampled from some of the best instruments in the world, so they sound very real and are sure to impress even the pickiest musicians.
Yamaha's Super Articulation technology is built into the PSR-SX900 as well, giving your playing more nuance and realism. Using this technology, you'll get to experience a performance that's remarkably faithful to the real thing, down to the subtleties like string slides, fret noises, and breath sounds.
User-Friendly Interface
The PSR-SX900's intuitive design makes it simple to learn and use. The 7-inch TFT color touch screen is bright and clear, allowing you to easily view all of your options and settings. Moreover, you can arrange the icons on the home screen as you see fit, making it a breeze to get to the features you use most often.
Assignable buttons, knobs, and faders on the keyboard can be used to take charge of a wide range of features and adjustments. This useful function allows for quick and simple modification of settings for use in a variety of performance, recording, and practice settings.
Endless Creative Possibilities
The PSR-SX900 provides musicians of all skill levels with an abundance of expressive options. The 16-track sequencer is built right in, so you can start composing and arranging right away. Use the keyboard's accompaniment styles to record your own instrumental accompaniment and fool your audience into thinking you're playing with a full band or orchestra.
On the keyboard, you can also use reverb, chorus, distortion, and other effects and processing. You can mold your sound with these effects to give your playing style more dimension and personality.
FAQ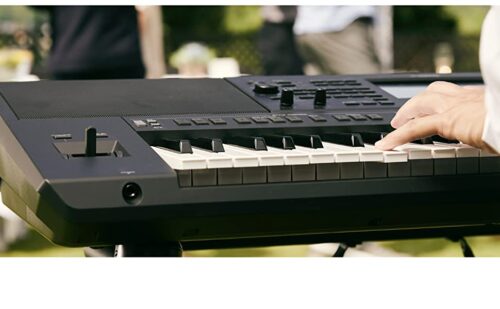 Is Yamaha PSR-SX900 worth buying??
Absolutely. If you are looking for a great arranger workstation, this model provides tons of features and capabilities that make it well worth the asking price.
What is the price of Yamaha PSR-SX900??
The model starts at roughly $2,400.
Is Yamaha PSR-SX900 touch screen??
Yes.
How many voices does the Yamaha PSR-SX900 have?
131.
Conclusion
The Yamaha PSR-SX900 is a great instrument because it sounds great, is easy to use, and has a wide range of ways to express yourself. This keyboard will serve you well whether you're just starting out or are a seasoned pro. It's a tool that can take you anywhere and let you do anything. It can spark your imagination and push you to your most creative and productive levels.
If this model isn't for you, check out some of our favorite other Yamaha models below: