The Williams Allegro 2 keyboard was released at the end of 2015. It was a very well received keyboard piano, however Williams decided to replace this model with the Williams Allegro 3 keyboard.
The Williams Allegro 3 improves on the foundation laid by the 2 and improves on its shortcomings. Overall, it is a better keyboard and a great option for beginners.
Due to the discontinuation of the Williams Allegro 2, the review below is outdated. We suggest you check out the Allegro 3 below:
Check Out the Williams Allegro 3
Allegro Williams 2 Review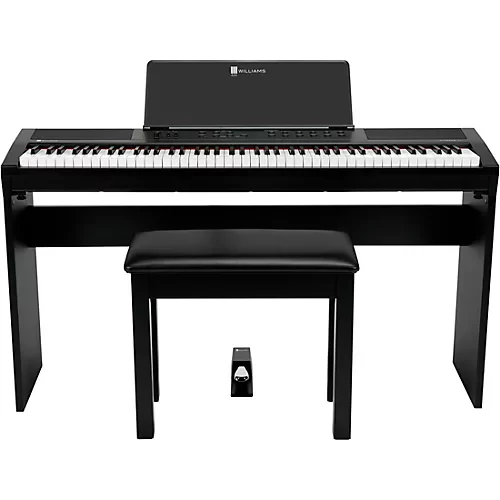 Overview:
The item is straightforward to use, affordable, and it will not carry a lot of software. All the important features of an Allegro digital piano, such as key and the best sound system, are extremely well constructed. Read the full Williams Allegro 2 review here in the below to know the details of this item.
For its extraordinary design, the item it's getting its popularity from the beginning. The Allegro 2 now offer a much more attractive and professional look, thanks to a substantial but light weight and elegant chassis that come with only in a matte black finish.
The item has been designed to be affordable while offering all the functionalities you would expect of an authentic piano.
Inside the Williams Allegro 2 at a glance:
It features 88 hammer action weighted keys
Comes with 64-note Polyphony
Demo songs corresponding to each voice
Excellent 10 Sound Samples
Superb Split and Layer functions
MIDI connectivity over USB
Metronome features with variable tempo
Headphone Jacks
Built-in Speakers
Stereo or mono line outputs
Chorus and Reverb Effects along with MOD or FX controls
Pros:
Varieties of sound effects
Responsive and the action is good
Adjustable volume
Excellent audio
Touch sensitive keys
Portable
Cons:
A little bit Heavy
Unrealistic sound (You have to be a performer at first, at the beginning level it's may occur)
Features:
Better sound:
I always say a line; the best keyboard piano should typically sound like a piano and not like any string instrument. The Williams Allegro 2 Hammer Action Digital Piano comes with 64 note polyphony, permitting you a high level of polyphony that decreases the risk of notes as well sounds being cut short in forwarding pieces.
The Williams Allegro 2 comes with 10 instruments a voice which is: grand piano, Electric Piano, Organ 1, Organ 2, Electric Piano 2, B. Piano, Synth Pad, E. Bass, A. Bass, and Strings.
SIDENOTE: check out some other piano keyboard speakers if you want better sound.
Superb controlling power:
The controlling system of this item is just awesome. The item comes with a variety of options. It has excellent reverb control and sensitivity control system. The item features a new FX or MOD control option which permits for the best control over the internal sounds. Overall, you can control anything that you want.
Quality keys:
The Williams Allegro 2 comes with 88 piano keys, which mean that the item has a full set of keys similar a real grand piano. Having a proper and full set of keys will grant you to play all 7 octaves of notes, which will put off any limitations that someone would have with a cheaper type digital piano with fewer keys.
All 88 keys of this item are hammer weighted, which permits them to feel more genuine and real while playing. The keys of this item are not graded, which entails that the amount of resistance you will remain the same across the full keyboard. The keys are velocity sensitive, which intends they'll play much louder when hit softer and harder when you hit the keys softly.
Console and Portability:
The Williams Allegro 2 is pretty heavy compared to other portable keyboards and pianos, but the item is quite sturdy, durable, and easy to transport from one place to another place. Honestly, the piano is very portable and versatile and can run on both batteries and AC power.
FAQ: Williams Allegro 2 Review:
Question: What are the product dimensions?
Answer: 13 x 51.6 x 5 inches
Question: Does this item come with a line out that I can record in the studio?
Answer: Yes, it has. Nothing worries here.
Question: Will it come with a headphone jack?
Answer: Yes it will.
Question: Will it come with music rest?
Answer: Yes it will.
Question: Weight of this item?
Answer: 30 pounds.
Conclusion:
Hopefully, you have got some valuable information to make your purchase decision. I know you have limited time to read out the topics. Furthermore, I have analyzed this keyboard with my best abilities to give you the useful information within a short guideline.
With its quality construction, fresh sounds, the plethora of features and realistic piano touch, the Williams Allegro 2 remains an excellent piano keyboard for money product as well scores much higher than it is contemporaries in the similar price range.
This piano is good for everyone from beginners to intermediate users, and you will feel that the item is working as a professional instrument. For the price no one can beat its quality, this item blows most other digital piano away, especially which is comes with external amplification.
If you want to get a decent instrument to learn on, or wish to have some space and save space, you cannot go wrong with this item for its affordable price. However, with its 88 keys, it's a full size piano.
All in all, it is an extraordinary instrument that is highly supported from my side for the vast majority of beginner, specially and amateur piano players. Make a deal with it right now.