If you're looking to purchase the best keyboard piano for beginners to learn on, you're in the right place. Playing the piano keyboard is becoming more and more popular for kids and adults to start. With all the free piano tutorials on YouTube and other sources, learning how to play the keyboard has never been easier.
Before you purchase a beginner keyboard piano, there are a few things you want to think about:
Do you want it to be portable?
How many keys do you want?
Do you want weighted keys?
What features do you need?
Does it need to include accessories?
What's your price range?
In the following guide, I'll show you the best keyboard pianos for beginners to learn on, then provide you with information on how to choose your keyboard if you need help choosing.
Best Keyboard Piano For Beginners From Amazon
Alesis Melody Electric Piano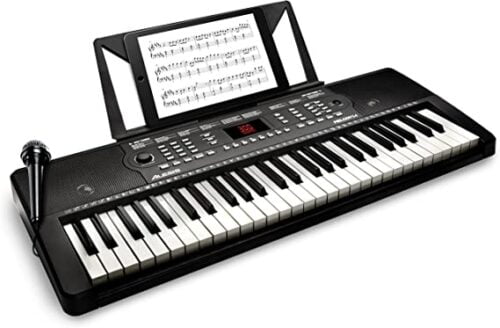 The Alesis keyboard piano has responsive touch with built-in speakers and selection of 300 sounds ranging from pianos, strings, brass, guitars, synths, and more. There's even a feature that allows you to play two different sounds at the same time using both sides of the keyboard. If you buy new, it includes three months of Skoove premium piano lessons to help you learn with this keyboard piano for beginners.
Specs
Dimensions: 32.64 x 12.84 x 3.23 inches
Weight: 7 lbs
Number of keys: 54
Number of voices: 300
Pros
Affordable price
Numerous voices
Lightweight and portable
Includes free lessons
Cons
Doesn't have weighted keys
RockJam Keyboard Piano Kit
Specs
Dimensions: 35.4 x 9.8 x 5.9 inches
Weight: 15 lbs
Number of keys: 61
Number of voices: 50
Pros
Affordable price
Numerous voices
Lightweight and portable
Includes free lessons
Cons
Doesn't have weighted keys
Yamaha NP32 Digital Piano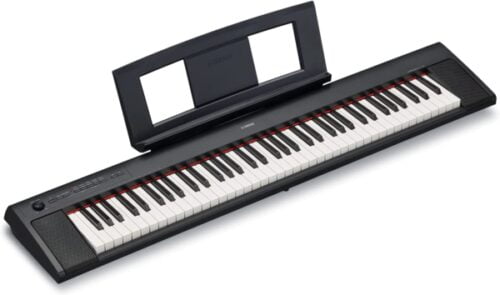 This best keyboard piano for beginners by Yamaha has 76 graded soft touch keys that have a gentle weight, but still resemble the feel of a keyboard. It uses a built -in stereo and advanced wave memory to create sounds that sound just like a real piano. There's an iOS app that allows you to customize the device, and a USB port to interact with a variety of apps on the computer.
Specs
Dimensions: 39.5 x 10.5 x 4.5 inches
Weight: 17 lbs
Number of keys: 76
Number of voices: 10
Pros
Affordable price
Realistic grand piano sound
Lightweight and portable
3 months free training included
Cons
Alesis Recital Pro Piano Keyboard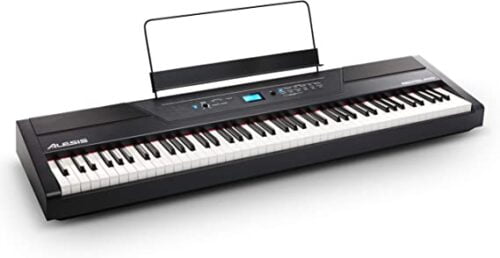 Alesis Recital Pro is a great keyboard piano for beginners that includes 60 free virtual lessons from Melodonics, and Skoove premium for three months. It uses hammer action keys that are adjustable to your playing style, and connections for sustain pedal, headphones, or keyboard piano speakers. It is portable and allows you to play with 6 D batteries if you don't have a power connection.
Specs
Dimensions: 52 x 14 x 5.5 inches
Weight: 26 lbs
Number of keys: 88
Number of voices: 12
Pros
Good price point
Hammer weighted keys
Option to play with batteries instead of chord
Includes free lessons
Cons
Yamaha P71 Keyboard Piano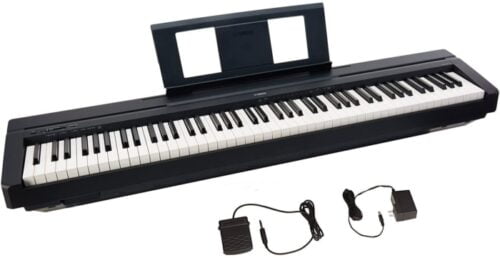 The Yamaha P71 need no introduction in the world of piano keyboards and is a great option for beginners, advanced, and pros alike. It has the most realistic key action of any keyboard piano under $500 and the AWM technology creates rich and deep sounds that are best in class. It is a simple digital piano without much clutter, and makes great music.
Specs
Dimensions: 52.25 x 11.5 x 6 inches
Weight: 25 lbs
Number of keys: 88
Number of voices: 10
Pros
The keys feel like a real piano
Thousands of five star review
Great quality and durability
Numerous voices
Only 25 lbs
Cons
How to Choose Your Keyboard Piano for Beginners?
Portability
Do you need to move your keyboard piano? If you are going to be commuting to and from lessons, or plan on taking your keyboard over to a friend's house to study, you need to make sure your keyboard is portable enough to do so.
Keyboard pianos for beginners come in many lengths, weights, and complexity. If you are going to be traveling by car, you need to make sure the keyboard is small enough to fit inside and light enough for you to carry. Most cars are more than capable of handling a 61 key keyboard piano, the size I recommend most for beginners.
The more complex a keyboard piano, the harder it will be to transport. By complexity, I'm referring to buttons for sound control, foot pedals, and if it needs to be on a stand. The more basic a piano, the easier it will be to transfer without breaking.
Number of Keys
When you are looking for portability, 61 or fewer keys is what you need. If you go smaller than 61, you will lose some functionality, so 61 is best. With 61 keys on your beginner keyboard piano, you'll be able to play most music you hear on the radio, and you will never run out of new songs to learn 61 keys. However, 61 key keyboards are hobby keyboards, and if you inspire to play pro, or play classical music, you'll want to get an 88 key keyboard piano.
76 key keyboard pianos are good enough to play on at gigs, and still remain fairly portable. Like 61 key keyboards, you won't be able to play classical music on this keyboard, but there are still plenty of song options to learn. These are good size keyboards for beginners who want something bigger than a 61 key, but don't need a full size keyboard piano.
88 key keyboard pianos are going to quite a bit longer and heavier than other options, but if you inspire to be a pro, or play classical music, you'll need the full 88 keys. These keyboard pianos are going to be a bit more pricey than smaller options, but worth it if you are serious about your music.
Weighted Keys
Weighted keys are an absolute must-have to play classical pieces. They give you dynamic control over the keys, meaning the harder you press, the louder the sound will be. For children, someone buying a keyboard just to mess around with, or make digital music, you probably don't need weighted keys, and standard keyboard pianos are a good deal cheaper.
Some keyboard pianos also have semi-weighted, or touch sensitive keys. This will provide the dynamic feel I mentioned earlier, but it won't give the traditional piano feel that some pros want. Although many budget keyboard pianos for beginners don't include weighted keys, for aspiring professionals, it's best to spend the extra money and get a keyboard piano with fully weighted keys.
Features
Even affordable keyboard pianos for beginners under $150 have great features nowadays. When looking at the features you need, here are the main ones available:
Voices – common voices include piano keyboards, grand piano, drums, and organ. These allow you to give your keyboard piano for beginners different sounds.
Split mode – allows you and an instructor to play side by side. Each side of the keyboard piano can be set to play the same notes, so if you have an 88 key keyboard piano, it would be like having two 44 key keyboard pianos side by side.
Layering mode – lets you add a chorus or other melody to what you are currently playing.
Play along song – most keyboard pianos include built-in beats to play along with. They help you set a tempo and learn how to play along with drums.
Learning materials – keyboards like the Alesis Recital Pro come with two months of free lessons included in your purchase. Certain keyboards also have light up keys to play along with.
Connectivity – if you want to hook up piano keyboard speakers, a microphone, or other accessories, you'll need to make sure your keyboard has the right ports to do so.
Accessories
Common accessories included with the best keyboard pianos for beginners to learn on include a stand, mic, seat, and sustain pedal. Keyboard pianos that include all of these items are usually called "kits" and can be as cheap as $150. They provide you with everything to start playing right out of the box. My favorite kit for beginners is the RockJam 61 Key Kit.
Price
This one is pretty self-explanatory, but price is one of the main factors for people when it comes to any purchase. If you want something under $100, you'll only find cheap keyboards that help you learn, but feel toy-like and will have 61 keys tops. In the $100 to $200 range, you can find some of the best keyboard pianos for beginners on a budget. Best of all, they'll include everything you need to start playing right away.
For over $300, you can start to find some weighted key options with 88 keys, but you'll likely need to spend closer to $400 to get a decent model. When you're already spending $300, it's better to just pay the extra $100 and get a very well respect keyboard like the Yamaha P71 Keyboard. It's one of the best keyboards on the market, with weighted keys under $500.
Conclusion
When looking for the best piano keyboard for beginners, there are many factors to consider. The main ones are price and number of keys. For budget conscious buyers, check out the RockJam 61 Key Kit. Whereas, those aspiring to be professional one day, or an option with a realistic piano feel, should choose the Yamaha P71 Keyboard.
Also Check Out:
Best Keyboard Pianos Under $150
Best Keyboard Pianos Under $300
Best Keyboard Pianos Under $500