In this Alesis Recital Pro review, I'll go over this awesome piano keyboard, and why it's the best choice for you. A piano keyboard is one of the many musical instruments that help to enlighten our minds. It is difficult to choose the best piano keyboard among plenty of models, but opting for the Alesis Recital Pro digital piano is a great choice.
It is easy to learn with the Alesis Recital Pro, as it includes Skoove, the easiest way to learn how to play the piano. The hammer-action keyboard provides a realistic piano feel, 128 polyphony provides a wide range of notes, and 12 includes voices allowing you to create a wide variety of music.
The Alesis Recital Pro is a suitable keyboard piano for beginners who are stepping into the music world or for those downgrading from a piano and want a keyboard with a realistic feel.
Alesis Recital Pro Review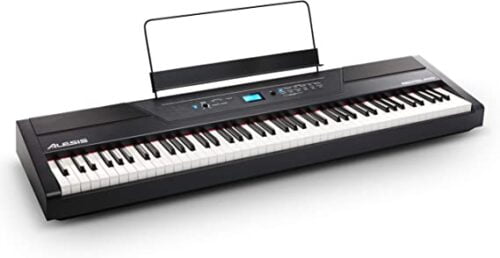 The Alesis Recital Pro is a full-featured digital piano with 88 full-sized hammer-action keys with adjustable touch response, 12 voices, powerful 20W built-in speakers, must-have connectivity options, and an immense 128-note maximum note polyphony.
With a fully adjustable metronome and the innovative Lesson & Record Modes, Alesis Recital Pro enables a student and teacher to easily watch each other, play together, and record performances. Alesis is a top-quality keyboard piano brand, and this keyboard is no exception.
Pros
Lots of different options as far as instruments and backup beats to choose from
Realistic feel when compared to the piano
Keys are easy to play and move freely
Good beginner set up to learn on, or for professionals
Perfect for those downsizing from a piano
Cons
Doesn't include a bench and other accessories
Alesis Recital Pro Key Features:
Keyboard:
Alesis digital piano has a touch-sensitive keyboard facility by which we can switch our tunes easily. It may not provide you with a touching experience, but you can have touch sensitivity. You can adjust the tone as per your requirement and comfort by using the controlling system of voice. The pitch depends upon your playing strength of the board. The more you play, the voice will be raised and vice-versa. The recording mode helps you to record the tunes.
Sound effects:
The recital pro contains a built-in speaker facility, and it has 12 inbuilt voices. The efficient keyboard provides six voice buttons with two variations imbibed in it. You can select both variations as per your need. You have to tap on the button to select the variety, and the panel indicates the type. If you have to choose the second variation, you need to double-tap the voice button. There exists a facility to add or remove a modulation.
Smartly designed:
Alesis is a top keyboard brand and designs smart products that customers love. The Recital Pro has not only a pleasing outer appearance but also brilliant features. It has a very sensitive touch response system that may create an illusion of working with manual piano. The smartest feature in this piano is its extra 128-note polyphony.
Layering:
Apart from the above features, it adds some more features to gain extra smartness. One among them is layer mode. We can simultaneously select two voices at a time, and the piano layers them together. To play a two-layered sound, choose together the first voice and then holding on the layer button select the second voice.
Metronome:
There exists a metronome button that helps you to adjust the response speed from 30 to 280 Bpm. This assists beginners control their tempo when playing.
Dual mode:
Even there is a facility to play one voice on the left side and the other on the right side with the help of split mode option in the keyboard. If you are a teacher, then it would be easy for you to teach the student by switching to the lesson mode. It splits the keyboard into two parts and provides with an identical voice and pitch.
Connectivity: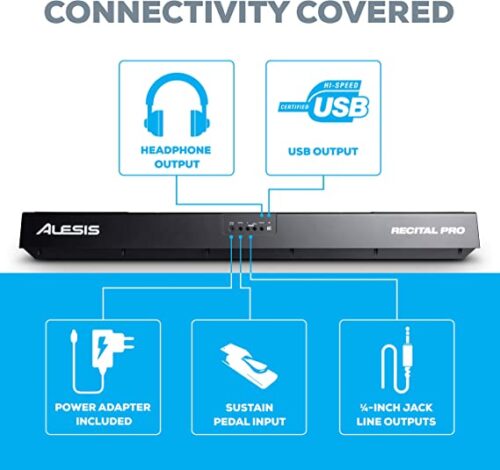 The Alesis Recital Pro has a power adapter and can be charged by 6D-cell batteries. It will create discomfort if we have to carry electric cables all along with the piano everywhere we go. The Recital Pro comforts us due to its power-holding batteries.
There is a facility of 2 line outputs to connect the external amplifier, but for a medium room, the internal speakers embedded in the piano are sufficient.
The Alesis Recital Pro provides you with a slot to connect the headphones, and you can enjoy the tunes without making a sound. Through this facility, you can keep your concentration on the tune as the other sounds cannot penetrate through your ears.
Using a usual printer cable, you can connect the piano to your computer through the USB portal.
More features:
The overall pitch of the piano can be transposed up and down with the help of the transpose button on the keyboard.
As we already discussed, you can use the facility of the record button to record your lessons and can listen in your leisure. The Recital Pro allows you to record only one song.
You can adjust pedal resonance and preset EQ modes such as Jazz, Rock, Classic, Standard, and Modern.
View most recent price on Amazon
Alternate Options
Conclusion: Is the Alesis Recital Pro Worth the Money?
Hopefully, you enjoyed the Alesis Recital Pro review, if you are looking for a different option, you can check out the Yamaha P71 Keyboard. If you are looking for a touch-sensitive keyboard with high polyphony, loud built-in speakers, and included software to learn how to play, then the Alesis Recital Pro is a great option under $400.